Cross Country Trail Ride admission includes three meals a day, a campsite with electric and water hookup, unlimited use of our indoor arena, and daily entertainment including horse shows, dancing, swimming, tack sale, Nashville entertainers and organized rides each day.
ALL EVENTS ARE LIMITED TO REGISTERED GUESTS ONLY! No tickets will be sold to concerts except during July and Labor Day. Our facility is privately owned. Unregistered/unpaid guests are not allowed access to our campground and facilities. If you're camping at another location please abide by the posted boundary signs while on horseback including the river crossing. Access to trails is available without entering our facility.
Firewood, hay, feed, stalls and stall bedding are not included in the admission price. Our electrical hookups allow 30-amp service per trailer. If your trailer uses more than 30 amps you may not be able to run some electrical appliances safely! Please keep this in mind when deciding what to bring with you. You will also require an adapter for your electrical cord to reduce the size of the plug down to a 110 volt outlet. Some sites have a trailer outlet, but most have a 110 volt outlet.
We accept cash, personal checks, or credit/debit card. Credit cards accepted are Mastercard, Visa, Discover or American Express. For reservations, call 573-226-3492 or email. Download our brochure.

STALLS
There are approximately 2,470 covered stalls. The stalls are 7' x 10' covered with a gate. We require the use of stalls and do not allow picket lines, panels or pens of any type. Attaching panels to stalls to extend the stall is not allowed. The stall fees are $25 per stall which covers the length of your stay.
CAMPGROUND FACILITIES
Our campground is approximately 80 acres and 900 campsites. There is electricity and water hookups throughout (please bring a minimum of 100 ft. electrical cord and water hose). There is 2 shower houses with 20 stalls on each side of the complex. The building is equipped with mirrors, sinks and electrical outlets for hair dryers and other accessories. There are trucks available to empty your sewage holding tank when needed. The charge is $15 per load and you may contact the staff at the front gate to request this service. Download our campground map.
Cross Country Trail Ride's facilities include a 63,000 square foot indoor riding arena to be used at your discretion, an air-conditioned restaurant, a large western store which carries women's, men's and children's western apparel and accessories, a nice tack store which will supply any needs you may have in the way of equipment or tack; hay, grain, and stall bedding for your animal. There is even a photographer who will be taking candid photos all week which will be available for sale the following day or posed photos by appointment.
63,000 sq. ft. Indoor Riding Arena
Dining Hall with seating for approximately 1,800 people
Shower House with 24 stalls on each side
CCTR Western Store — the largest western store in the area offering men's, women's and children's western apparel, boots and accessories. Contact us at 573-226-3883.
Circle G Trailer Sales (573-663-7555) offers new and used trailers, as well as, repair services
The Tack Shop (636-279-5225) offers a large variety of tack and equine supplies
Hay, feed, and bedding are available at the front gate
CCTR Restaurant offers short order items and a steak bar each evening
THE TRAILS
We have approximately a 300 mile trail system. The trails cover private, state and federal lands. Our trails consist mostly of old logging roads through some of the most scenic country in the beautiful Missouri Ozarks. They will take riders across the Jack's Fork and Current Rivers which are known throughout the country as two of the most pristine and scenic rivers in the United States. They are well cut, but the terrain is rocky and very hilly; most horses will require shoes. Even the most inexperienced rider can ride the trails without danger of injury.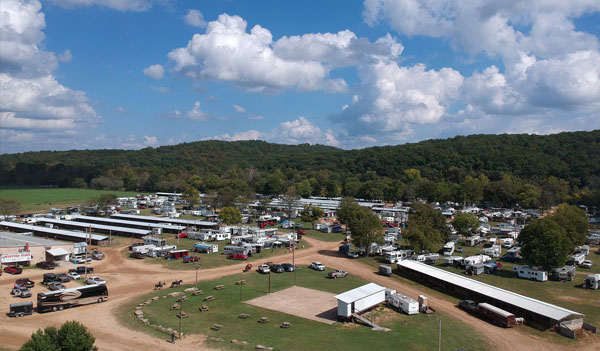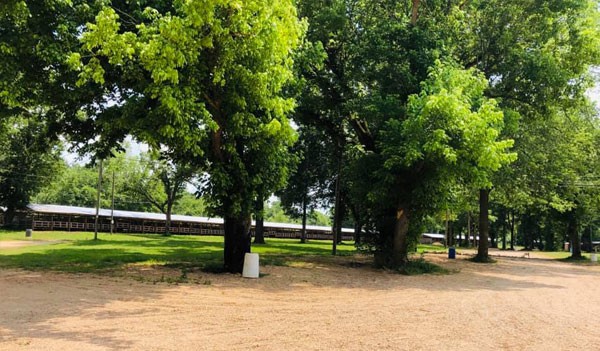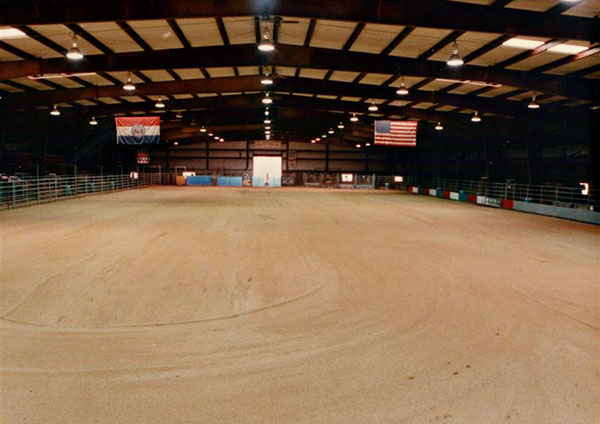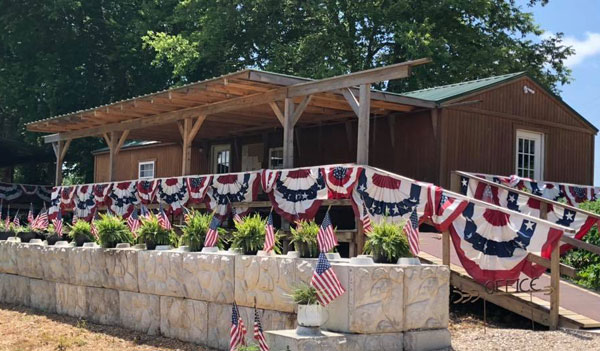 You will need to bring your own sleeping facility, horse, tack, feed, hay and bedding. We will have feed, bedding and hay available to purchase upon arrival.
AS OF NOVEMBER 1, 2009, EVERY GUEST WILL BE REQUIRED TO USE DEHYDRATED PELLET BEDDING. YOU MAY BRING THIS TYPE BEDDING FROM HOME OR PURCHASE IT ON SITE. ALL OTHER TYPES OF BEDDING (straw, wood shavings, sawdust, etc.) ARE NOT ALLOWED!
We suggest 2-3 bags of pellets per stall for the week, depending on how deep you like your stall bedded.

It is advisable to bring an electric adapter to convert your trailer plug to a 110 outlet plug, an extension cord and water hose (minimum 100' each), a water hose splitter (Y splitter) to share water access, raincoat, rubber boots, blankets, warm clothing, tennis shoes, a hay bag, water bucket, feed bucket, stall cleaning tools, a wheelbarrow and a camera.
AVERAGE PRICES FOR HAY, FEED AND BEDDING
(Prices subject to change based on market prices.)
Grass Hay $10.00 per bale
Sweet Feed $13.00 per 50 lbs.
Bedding $5.00 per bag
* Please note these prices are only an average cost. Prices may vary depending on the market price.
STATE REQUIREMENTS FOR YOUR ANIMALS
The state of Missouri requires every horse and mule traveling in Missouri to have a current NEGATIVE COGGINS TEST (valid for 1 year) and out of state animals will also need a health certificate (valid for 30 days). You will be asked to show these documents upon entering our grounds and before you will be allowed to register. This is a state law and is strictly enforced by Cross Country Trail Ride.
LOCAL REQUIREMENTS FOR UTV'S
City permit required to drive inside city limit ($20 – Lifetime)
County permit required to ride inside Shannon County
Valid driver's license
Riding hours between sunrise and sunset in City of Eminence
Stay out of creeks and rivers
No off-roading, ride on county roads only and respect private property
Speed Limit 20 MPH inside city limit
Not allowed inside National Park facilities
No open containers allowed on National Park Service property
Orange flag or triangle
Call 573-226-3492 to make your reservation!
The best equine vacation in the United States at the most affordable price.